As I head "off grid" this month (Yes, we're heading to a secluded mountain cabin with no wifi or cell phone service and 45 minutes from the nearest grocery store. I'm still not sure if it's brilliant or bananas – I'll let you know) I'm excited to invite two friends to share Their Story, Their God, with you.
This week Kellie Stuart shares the touching story behind her new book Like a River From It's Course. Kelli is not only a successful author (you can read all her accolades in her website bio), but a wife, mum to four rambunctious kids and a selfless friend. In the short time we've known each other she has made me laugh, encouraged me to be a better person and writer, and inspired me to more of who God created me to be. I know her writing will do the same for you.
If you read one book this summer, it should be Kelli's. It's part of our history, it's part of our humanity, and it's a story of God meeting us in the midst of horrendous evil. Grab a cuppa tea and enjoy both Kelli's story and her book.
My Story, My God, My Ukraine – By Kellie Stuart
My mom and I stepped out onto the sidewalk, and I took it all in. The city of Kiev stretched before me, and I blinked back tears. I was back in Ukraine for the first time in five years and the sights, sounds, and smells were like music to my ears.
I was home.
Not really home, of course, since I'm as American as apple pie. But Ukraine had rooted a place into my heart a decade before this particular trip, and it felt like I'd come back to a place that was always meant to be mine.
"I'm so happy right now," I told my mom. We looked both ways, then hustled across the street toward the trolley stop. Just as I stepped up onto the sidewalk, my foot got caught on a wire that was lying randomly on the ground. And before I could say, "I love Ukraine," I fell flat on my face.
This is comical now, but at the time it was terrifying because, you see, I was five months pregnant. A hard fall on my abdomen was cause for concern, but I wasn't about to walk myself into a Ukrainian hospital, so mom and I made our way to the only place we could think of that might offer some comfort.
McDonalds.
Over a Big Mac and a Coke, I had a good cry. Then we prayed for safety over me and the baby, I washed the blood off my hands and knees, and we moved forward with our planned trip.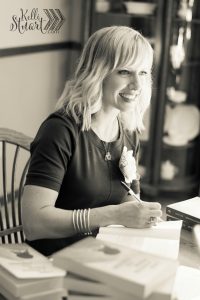 It was 2003, and I was in Ukraine to chase down a dream. I was there to gather stories for a book I wanted to write. A book about World War II, about Ukraine, and about survival. I was 24 years old, pregnant with my first child, and knew this would be my last opportunity to chase these stories before motherhood settled upon me.
Dream chasing, however, brings with it unique challenges which cannot always be predicted. By the end of our month in Ukraine, I was emotionally and physically exhausted, pushed to the end of myself in every way possible.
I left wondering how on earth I could possibly do justice to the many stories I heard. Stories of survival amidst the harshest of circumstances. Stories of starvation and torture, of love, grief, loss, and heartache that left my heart swimming with emotion.
How could I, a young American girl who had little experience with real suffering or persecution, honor the men and women who shared their stories with me?
It took me a decade to write the story. Babies and life slowed things down, as did deep insecurities that I could never tell the story right. I was just under half finished with it in 2012, seriously contemplating giving up altogether, when God met me fully and completely.
He met me in heartache.
My husband and I were in process to adopt a little girl from Russia, a dream I had held since I was fifteen years old. On December 27, 2012, Vladimir Putin signed a law banning American adoptions in Russia, and my heart broke.
In my grief, I returned to the story. I needed an outlet to process my heartache, and it had to somehow be tied to the part of the world that I held so dear. For three months, I spent every free moment writing, pouring my heart and soul into the story.
It was here that God met me most intimately. In the late nights and early mornings, as I typed with tears rolling down my cheeks, He reminded me of His nearness. He showed me that He is good even when the circumstances are devastating.
He dripped His grace onto the pages of my novel, and in so doing I felt a new love course through my body for the people of Russia and Ukraine.
Like a River From Its Course released June 27, thirteen years after I took that trip to Ukraine. It is my love letter back to the people who taught me what it means to find hope in the darkest places of life.
It's my gift to the men and women who looked evil in the eye and refused to be broken.
It's my hands open offering back to the One who met me in the writing and whispered His grace on my broken heart.
The novel is not easy to read. It's gritty and emotional, but woven through the pages is a current of hope.
It's the story of my God and my Ukraine.
I pray you're as blessed by the reading as I was by the writing.
Purchase your copy of Like a River From Its Course now.
For more information on the true stories behind Like a River From Its Course, visit Kelli's website.